Posts for: June, 2014
By East Ellijay Family & Cosmetic Dentistry
June 11, 2014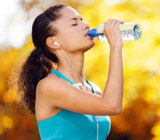 If you or your family has an active sports lifestyle, you probably already know the importance of food and liquids for energy and hydration. But what you eat and drink (and how often) could unintentionally increase your teeth's susceptibility to tooth decay. With that in mind, you should plan your nutrition and hydration intake for strenuous exercise to maximize energy and reduce the risk of tooth decay.
On the general health side, carbohydrates are your main source of energy for sports or exercise activity. You should eat a substantial carbohydrate-based meal (such as pasta, cereal or sandwiches) a few hours before a planned event. An hour before, you can snack on something easily digestible (avoiding anything fatty) to prevent hunger and as additional energy fuel.
It's also important to increase your liquid intake before strenuous activity to avoid dehydration, usually a couple of hours before so that your body has time to eliminate excess fluid. During the activity, you should drink three to six ounces of water or sports drink every ten to twenty minutes to replace fluid lost from perspiration.
While water is your best hydration source, sports drinks can be helpful — they're designed to replace electrolytes (sodium) lost during strenuous, non-stop activity lasting more than 60 to 90 minutes. They should only be consumed in those situations; your body gains enough from a regular nutritional diet to replace lost nutrients during normal activity.
In relation to your oral health, over-consumption of carbohydrates (like sugar) can increase your risk of tooth decay. The acid in most sports drinks also poses a danger: your teeth's enamel dissolves (de-mineralizes) in too acidic an environment. For these reasons, you should restrict your intake of these substances — both what you eat and drink and how often you consume them. You should also practice regular oral hygiene by brushing and flossing daily, waiting an hour after eating or drinking to brush giving your saliva time to wash away food particles and neutralize the acid level in your mouth.
Knowing what and when to eat or drink is essential to optimum performance and gain in your physical activities. Along with good oral hygiene, it can also protect your oral health.
If you would like more information on the best sports-related diet for both general and oral health, please contact us or schedule an appointment for a consultation. You can also learn more about this topic by reading the Dear Doctor magazine article "Nutrition for Sports."
By East Ellijay Family & Cosmetic Dentistry
June 09, 2014
Gain Confidence Back with Dental Implants from Our Ellijay Office
Today, dental implants –
titanium structures that are placed in the area where the tooth is normally occupied by the root
– have been designed to mimic the look and feel of natural teeth, allowing you to regain your natural smile. Before the development of implants, traditional dentures and bridges were the only solutions available to replacing a missing tooth or multiple teeth.
Whether you are missing a single tooth or a mouthful of teeth, you want a dental solution that will restore your smile as close to your natural teeth as possible. If you're embarrassed to smile, frustrated with eating or tired of wearing dentures, consider implants- the natural-looking, comfortable and long-term solution to missing teeth. This solution offers stability, durability and convenience that other procedures can't provide, while improving the appearance of your teeth so that you can smile with confidence once again.
Tooth Loss Has a Negative Effect on your Smile
Tooth loss in adults can cause both functional and aesthetic problems. As soon as you lose a tooth or teeth, many people will begin to exhibit pain and sensitivity where the tooth is missing. Problems arise almost instantly, including difficulty eating and talking. In time, adjacent teeth may begin to shift towards the gaps that are left in your teeth, which can result in misalignment. This often will lead to bite problems that will need to be corrected with professional orthodontic treatment.
Since its surrounding teeth support each tooth, tooth loss can weaken a person's overall mouth structure, which can lead to additional tooth loss and dental health problems with time. Not everyone is a good candidate for dental implants. Patients must have healthy gums and adequate bone to support the implant, as well as the commitment to maintaining proper oral hygiene. This includes exceptional oral hygiene and regular visits with our Ellijay, GA dentists.
Replacing Missing Teeth with Dental Implants Provides Far-reaching Benefits
With dental implants, one of the major advantages is that they do not require preparation or drilling of your neighboring healthy teeth. Additionally, they also do not require special brushes for proper maintenance of your oral hygiene. Dental implants are one of the most successful ways to replace missing teeth with a very high success rate. Since implants are securely attached, you can gain confidence to eat what you like, speak clearly and freedom from embarrassment.
Some other benefits of using dental implants for replacing teeth include:
Appearance – Implants look and act more like your natural teeth compared to other forms of restorative treatments.
Increased Confidence and Self-Esteem – You no longer have to worry about your dentures slipping and cracking while eating or speaking. Implants are secure.
Reliability – The success rates for dental implants are extremely high and the longevity of an implant restoration can last a lifetime.
It is possible to live confidently with dental implants from our Ellijay family dentistry. The implants maintain the look and feel of your natural teeth, unlike conventional restoration solutions, lasting a lifetime with proper care.