Posts for: January, 2014
By East Ellijay Family & Cosmetic Dentistry
January 30, 2014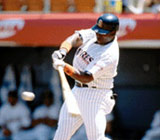 Chewing tobacco is a known cause of oral cancer, yet many a Major League Baseball player has been seen walking onto the field with a round tin visibly poking out of his back pocket. That was before this year. Recognizing the influence big-leaguers have on their young fans, MLB players agreed to a new contract that limits their use of chewing tobacco and their ability to carry it around their fans. The 2012 season is the first to be played under the new rules, which were championed by Baseball Commissioner Bud Selig.
One player who used smokeless tobacco heavily is Baseball Hall of Famer Tony Gwynn. The former Padres slugger earlier this year endured 14 hours of surgery to remove a cancerous growth from the inside of his right cheek and graft a nerve from his shoulder to replace a facial nerve damaged by the tumor. This was Gwynn's second cancer surgery in less than two years.
When it comes to oral cancer, the importance of early detection can't be stressed enough. Unfortunately, this form of cancer is not usually detected until a late stage so the overall survival rate is poor, with only 58% surviving five years after treatment. Yet when oral cancer is detected while a lesion is small, survival rate exceeds 80%. That's why an oral cancer screening is always part of your dental check-up or regular cleaning appointment at this office.
During this screening we will examine your face, neck, lips, mouth, tongue and the back of your throat for any suspicious lesions (sores or ulcers) or lumps. Of course, if you notice any unusual lesions, or color changes (white or red patches), anywhere in your mouth that do not heal within two-three weeks, please come in to see us as soon as possible. And if you need help kicking a tobacco habit, we can advise you on how to get it.
If you would like more information about oral cancer, please contact us or schedule an appointment for a consultation. You can also learn more by reading the Dear Doctor magazine article "Oral Cancer."
By East Ellijay Family & Cosmetic Dentistry
January 15, 2014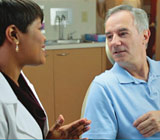 Periodontal (gum) disease is sometimes called a "silent" malady — meaning that its symptoms don't generally announce themselves with great fanfare (or pain, as conditions like tooth decay and root canal issues often do). Yet this disease is estimated to affect almost half of the adult population in the United States, causing deterioration of the gums and the bone surrounding the teeth… and possibly leading to bacterial infections, loss of teeth, and even systemic (whole-body) problems.
So what exactly is periodontal disease? Actually, it's the broad name for a group of related diseases which attack the soft tissue of the gums and the tooth-supporting bone. Most periodontal diseases are caused by the buildup of harmful bacteria in a biofilm (thin, sticky layer), which coats teeth in the absence of effective oral hygiene. And yes, that means if you don't brush and floss daily, you're much more likely to develop gum disease.
Even the most attractive smile could have gum disease lurking beneath it. How do you know if you may be affected? Some early warning signs include redness or inflammation of the edges of the gums, a bad taste in your mouth or bad breath, plus any degree of bleeding when you brush your teeth (brushing should never cause gums to bleed). As the disease progresses, you may develop painful inflammation or a pus-filled abscess, bone loss, loose teeth… and eventually tooth loss.
But don't wait until then to seek treatment! If you see your general dentist regularly, and if he or she notices signs of gum disease, you may be referred to a periodontist. But you don't need a referral — you can simply make an appointment and come in for a check-up. That may be wise if you have noticed any warning signs — especially if it has been a while since you've had an exam. Periodontal disease may be a silent malady, but that doesn't mean you have to let it affect your oral health.
If you would like more information about periodontal disease, call our office for a consultation. You can learn more in the Dear Doctor magazine articles "When To See A Periodontist" and "Warning Signs of Periodontal (Gum) Disease."