Posts for tag: root resorption
By East Ellijay Family & Cosmetic Dentistry
April 04, 2022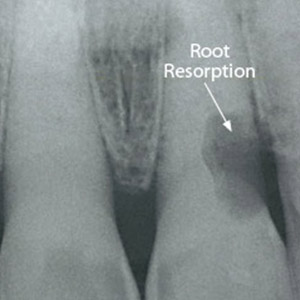 You know the "usual suspects": brown tooth spots, toothache, or reddened, swollen or bleeding gums—common indicators for tooth decay and periodontal (gum) disease, two of the biggest threats to your teeth. But there are other conditions that, although rare in comparison, are no less harmful to your teeth. One of these is root resorption, when an adult tooth's root structure dissolves (resorbs).
Root resorption usually starts on the outside of a tooth, near the neck-like or cervical area around the gum line, and is also known as external cervical resorption (ECR). Your dentist may first notice tiny pink spots on the enamel during an exam: these are tiny lesions where the enamel has eroded, and are filled with pink-colored cells that actually help perpetuate resorption.
We're not fully certain about the underlying causes for root resorption, but some factors like excessive orthodontic force or dental trauma (particularly involving periodontal tissues that hold teeth in place), seem to be present with many cases.
Fortunately, most people experiencing these and similar conditions never contend with ECR. Still, it remains a possibility, particularly for older adults, and is best addressed as early as possible. Regular dental checkups are vital to identifying the condition early with prompt treatment following.
If the lesions are small, we may be able to clean out the pink tissue cells and fill the lesion with a tooth-colored material like a composite resin or glass ionomer cement. Even though this is a relatively simple process, we sometimes may need to expose the affected area below the gum tissue with a surgical procedure. And, if the damage has reached the pulp in the center of a tooth, we may also need to perform a root canal treatment.
At some point, though, the level of resorption may have left the tooth too compromised for any reasonable repair. In such cases, it may be best to remove the tooth and replace it with a restoration, most notably a dental implant.
Needless to say, keeping a regular dental visit schedule is your best defense against experiencing ECR this advanced. Early detection remains the best case scenario for this rare but damaging disease.
If you would like more information on root resorption, please contact us or schedule an appointment for a consultation. You can also learn more about this topic by reading the Dear Doctor magazine article "Root Resorption: An Unusual Phenomenon."
By East Ellijay Family & Cosmetic Dentistry
March 20, 2019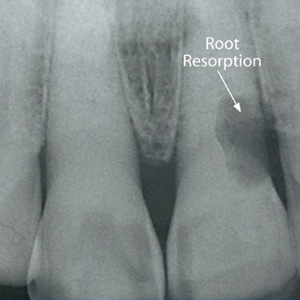 As your dental provider, we're always alert for signs of tooth decay or periodontal (gum) disease, the two leading causes of tooth loss. But we're also watching for less common conditions that could be just as devastating.
Root resorption falls into this latter category: it occurs when a tooth's root structure begins to break down and dissolve (or resorb).  It's a normal process in primary ("baby") teeth to allow them to loosen and give way when permanent teeth are ready to erupt.
It's not normal, though, for permanent teeth. Something internally or—more commonly—externally causes the root structure to break down. External resorption usually occurs at the neck-like or cervical area of a tooth around the gum line. Known as external cervical resorption (ECR), it can first appear as small, pinkish spots on the enamel. These spots contain abnormal cells that cause the actual damage to the root.
We don't fully understand how root resorption occurs, but we have identified certain factors that favor its development. For example, it may develop if a person has experienced too much force against the teeth during orthodontic treatment. Injury to the periodontal ligaments, teeth-grinding habits or some dental procedures like internal bleaching may also contribute to later root resorption.
Early diagnosis is a major part of effective treatment for root resorption. Because it's usually painless and easily overlooked, resorption is often too difficult to detect in its early stages without x-rays—a good reason for regular dental exams. Beginning spots or lesions are usually small enough to surgically remove the tissue cells causing the damage and then filled with a tooth-colored filling material. If it has advanced further, we may also need to perform a root canal treatment.
At some point, the damage from root resorption can be too great, in which case it might be best to remove the tooth and replace it with a dental implant or similar restoration. That's why catching root resorption early through regular dental exams can give you the edge for saving your tooth.
If you would like more information on diagnosing and treating root resorption, please contact us or schedule an appointment for a consultation. You can also learn more about this topic by reading the Dear Doctor magazine article "Root Resorption: An Unusual Phenomenon."