Posts for tag: fillings
By East Ellijay Family & Cosmetic Dentistry
February 20, 2020
How tooth-colored fillings from your family dentists in East Ellijay, GA, can save your smile
Damaging your teeth can be easier than you think. Everyday habits like biting on hard foods, grinding/clenching your teeth, or playing contact sports can all cause damage to your teeth. Teeth can also become damaged due to tooth decay. This occurs when the sugar in the foods you eat combines with the bacteria in your mouth to form bacterial acid, a material strong enough to eat through tooth enamel, causing a cavity.
Not too many years ago, the only choice to restore damaged teeth was metal fillings. However, thanks to today's state-of-the-art dental materials and techniques, you can have tooth-colored fillings that actually enhance the appearance of your smile. Here at East Ellijay Family & Cosmetic Dentistry in East Ellijay, GA, your family dentists offer tooth-colored fillings that can save your smiles—read on to learn more!
What tooth-colored fillings can do for you
Tooth-colored fillings use composite, a unique liquid material that can be matched to the color of your teeth. It is placed as a liquid and sculpted to match the natural contours of your teeth. Then, the liquid is hardened using an ultraviolet light. The end result is a filling that is virtually invisible and blends perfectly with your smile.
Tooth-colored fillings offer important benefits including:
Increased strength, because the composite is bonded to your tooth surface using a chemical bonding agent, so your tooth-colored filling will provide many years of protection
Enhanced beauty, because composite looks just like tooth enamel, so tooth-colored fillings help you have a flawless smile
Quick results, because tooth-colored fillings can be completed in one appointment
Another major benefit of tooth-colored fillings is that they are completely metal-free. Imagine, no more metallic taste in your mouth, or unsightly large metal fillings! All people will notice is your beautiful smile!
Need dental work? Give us a call
You deserve to have a strong filling and a beautiful smile. Thanks to tooth-colored fillings, you can have both. To learn more about tooth-colored fillings and our other dental services, call the family dentists here at East Ellijay Family & Cosmetic Dentistry in East Ellijay, GA, today by dialing (706) 635-2218.
By East Ellijay Family & Cosmetic Dentistry
April 03, 2018
Tooth-colored fillings provide a natural-looking and well-performing restoration of decayed or damaged teeth. Gone are the days when the
only option was a dark and unattractive amalgam filling. Today's realistic composite resin is your Ellijay, GA, dentist's material of choice for repair of tooth decay. At East Ellijay Family & Cosmetic Dentistry, our team of outstanding professionals deliver the best in dental fillings to optimize your appearance and oral function.
What is composite resin?
It's a tooth-colored material composed of glass particles and acrylic. Combined in one innovative material, the glass and acrylic mimic the appearance and strength of natural tooth enamel. Plus, because it's bonded to the tooth, the resin seamlessly restores it and requires far less enamel reduction than amalgam.
Placing a tooth-colored filling
When you come to East Ellijay Family & Cosmetic Dentistry, your dentist will visually inspect your tooth and X-ray it as necessary. Then, they'll numb the tooth with locally-injected anesthetic and remove the decayed areas. Then, the filling process begins.
After drying the tooth thoroughly, your Ellijay, GA, dentist applies the composite resin in layers. This meticulous process ensures filling of all voids on the tooth surface, says the American Academy of Cosmetic Dentistry. The AACD also states that because each layer is hardened separately, the bond is exceptionally strong and eliminates the need for deep undercuts which can weaken the tooth.
Finally, your Ellijay, GA, dentist sculpts the chewing surface to ensure proper bite with the opposite arch of teeth. Your fully restored tooth is ready to be used right away, and the white filling should last for many years. Just brush twice a day with a soft brush and floss around your tooth daily. As usual, come to East Ellijay Family & Cosmetic Dentistry every six months for your routine oral exam and hygienic cleaning.
Come see us
If you suspect you have a cavity or are concerned about the health of any tooth, call your Ellijay, GA, dentist for an appointment. Call East Ellijay Family & Cosmetic Dentistry at (706) 635-2218.
By East Ellijay Family & Cosmetic Dentistry
December 14, 2015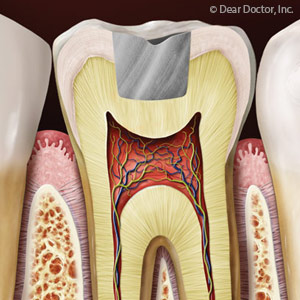 Recently, a number of new filling materials that mimic tooth color have come into popular use and, so far, have proven more durable than past versions. Even so, the traditional metal-based dental amalgam remains a viable choice, especially for less visible back teeth and their higher biting forces.
Used for more than a century, dental amalgam is a metal alloy composed of silver, mercury, tin and copper. The mixture is carefully proportioned so that potentially hazardous mercury is kept to a minimum and bonded with the other metals. Amalgam in its initial form is quite pliable so that it can be molded into the tooth structure under repair. Afterward it sets hard to form a durable filling that can withstand the daily force generated when we bite and chew food.
Besides durability, dental amalgam rarely causes an allergic reaction in a patient, and it's easy for trained dentists to apply. On the downside, however, it can cause temporary temperature sensitivity in the tooth just after filling, and the tooth itself may require some removal of healthy structure to help keep the filling in place. And from an aesthetic point of view, its metallic appearance is considered unattractive especially for front teeth.
The presence of mercury in amalgam has also raised concerns over the years. "Free" mercury — atoms that escape through vapor emitted by the metal — can enter the bloodstream and potentially harm the nervous system. But after extensive study and research, U.S. and international health bodies including the American Dental Association have concluded any free mercury released during chewing is extremely low and well below any harmful levels. These studies have also found no ill effects in either children or adults with dental amalgam fillings.
Deciding on the type of filling material to use — dental amalgam or a newer composite resin, resin ionomer or glass ionomer — depends on a number of factors including the location of the teeth to be filled, the extent of decay and your personal preferences. Taking these into account, we'll be happy to discuss which type of filling will suit you best for repairing decayed teeth.
If you would like more information on filling material options including dental amalgam, please contact us or schedule an appointment for a consultation. You can also learn more about this topic by reading the Dear Doctor magazine article "Silver Fillings — Safe or Unsafe?"