Posts for: February, 2021
By East Ellijay Family & Cosmetic Dentistry
February 18, 2021
Howie Mandel, one of America's premier television personalities, rarely takes it easy. Whether performing a standup comedy gig or shooting episodes of America's Got Talent or Deal or No Deal, Mandel gives it all he's got. And that intense drive isn't reserved only for his career pursuits–he also brings his A-game to boosting his dental health.
Mandel is up front about his various dental issues, including multiple root canal treatments and the crowns on his two damaged front teeth. But he's most jazzed about keeping his teeth clean (yep, he brushes and flosses daily) and visiting his dentist regularly for cleanings and checkups.
To say Howie Mandel is keen on taking care of his teeth and gums is an understatement. And you can be, too: Just five minutes a day could keep your smile healthy and attractive for a lifetime.
You'll be using that time—less than one percent of your 1,440 daily minutes—brushing and flossing to remove dental plaque buildup. This sticky, bacterial film is the main cause of tooth decay and gum disease. Daily hygiene drastically reduces your risk for these tooth-damaging diseases.
But just because these tasks don't take long, that's not saying it's a quick once-over for your teeth: You want to be as thorough as possible. Any leftover plaque can interact with saliva and become a calcified form known as calculus (tartar). Calculus triggers infection just as much as softer plaque—and you can't dislodge it with brushing and flossing.
When you brush, then, be sure to go over all tooth areas, including biting surfaces and the gum line. A thorough brushing should take about two minutes. And don't forget to floss! Your toothbrush can't adequately reach areas between teeth, but flossing can. If you find regular flossing too difficult, try using a floss threader. If that is still problematic, an oral irrigator is a device that loosens and flushes away plaque with a pressurized water stream.
To fully close the gate against plaque, see us at least every six months. Even with the most diligent efforts, you might still miss some plaque and calculus. We can remove those lingering deposits, as well as let you know how well you're succeeding with your daily hygiene habit.
Few people could keep up with Howie Mandel and his whirlwind career schedule, but you can certainly emulate his commitment to everyday dental care—and your teeth and gums will be the healthier for it.
If you would like more information about daily dental care, please contact us or schedule a consultation. To learn more, read the Dear Doctor magazine articles "Daily Oral Hygiene: Easy Habits for Maintaining Oral Health" and "10 Tips for Daily Oral Care at Home."
By East Ellijay Family & Cosmetic Dentistry
February 08, 2021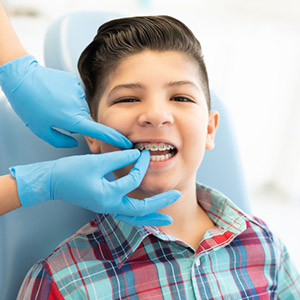 In any given year, 4 million tweens and teens are in the process of having their teeth straightened with braces or clear aligners. It's so common we tend to consider orthodontic treatment for young people as a rite of passage into adulthood.
But it doesn't necessarily have to be that way—it might be possible to stop or at least minimize a poor bite before it fully develops. That's the goal of interceptive orthodontics—treatments that head off or "intercept" a bite problem early.
The goal isn't necessarily to reposition misaligned teeth, but to correct a problem that can lead to misalignment. Here are some examples.
A narrow jaw. A narrowly developing jaw can crowd incoming teeth out of their normal positions. For the upper jaw, though, we can take advantage of a temporary separation in the bones in the roof of the mouth (palate) with a device called a palatal expander. Placed against the palate, the expander exerts outward pressure on the teeth and jaw to widen this separation. The body fills in the gap with bone to gradually widen the jaw.
Abnormal jaw alignment. It's possible for a jaw to develop abnormally during childhood so that it extends too far beyond the other. Using a hinged device called a Herbst appliance, it's possible to interrupt this abnormal growth pattern and influence the bones and muscles of the jaw to grow in a different way.
Missing primary teeth. An important role for a primary (baby) tooth is to hold a place for the future permanent tooth. But if the primary tooth is lost too soon, other teeth can drift into the space and crowd out the intended permanent tooth. To prevent this, we can insert a space maintainer: This simple looped metal device prevents teeth from drifting and preserves the space for the permanent tooth.
Although these and other interceptive treatments are effective, some like the palatal expander do their best work within a limited age frame. To take advantage of interceptive orthodontics in a timely manner, parents should seek a bite evaluation for their child from an orthodontist around age 6. The earlier we detect a growing bite problem, the greater your chances for successful intervention.
If you would like more information on treating emerging bite problems early, please contact us or schedule an appointment for a consultation. You can also learn more about this topic by reading the Dear Doctor magazine article "Interceptive Orthodontics."