Posts for: November, 2018
By East Ellijay Family & Cosmetic Dentistry
November 20, 2018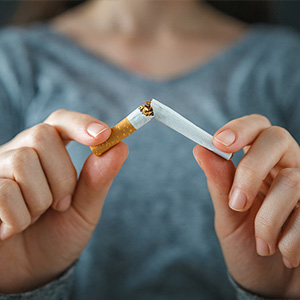 What does November make you think of? Pumpkins? Turkeys? Dry leaves and frosty mornings? How about cigarette butts?
If you're wondering about the last item, remember that November 15 is the date of the Great American Smokeout—a day set aside for those who want to take the first steps toward quitting the tobacco habit. While the percentage of smokers in the U.S. has dropped to less than 16% in recent years, according to the American Cancer Society there are still some 38 million Americans who smoke cigarettes. Smoking causes over 480,000 deaths every year, and is the leading preventable cause of death in the U.S.
Even if it doesn't kill you, the effects of tobacco use can be devastating to your entire body—including your mouth. Whether you smoke cigarettes or use chewing tobacco, your risk of oral cancer is greatly increased, as is your chance of developing periodontal (gum) disease. What's more, smoking can mask the symptoms of gum disease, so your condition is actually worse than it appears. Severe gum disease is one reason why smokers tend to lose more teeth than non-smokers.
In addition, because smoking interferes with the natural healing process, smokers have a much greater chance of dental implant failure. Tobacco use also can lead to increased amounts of plaque, which results in tooth decay and other oral health problems. It also stains your teeth, reduces your senses of smell and taste, and gives you bad breath.
Ready to quit yet? If so, there are lots of resources to help you on the road to a healthier life. The American Cancer Society, sponsor of the Smokeout, can help you make a plan to quit tobacco—and stay off it. It's not easy, but over a million Americans do it every year. See their website for more information, plans and tips on quitting. Your health care professionals are also a great source of information and help when it's time to get off the tobacco habit. Feel free to ask us any questions you may have.
And here's the good news: The moment you quit, your body begins to recover from the effects of tobacco use. In just one year, you'll have cut your risk of heart attack and stroke in half. After 5 to 15 years, your risk of stroke, coronary heart disease, and several other conditions is the same as someone who has never smoked.
If you have questions about smoking and oral health, please contact our office or schedule a consultation. To learn more, read the Dear Doctor magazine articles "Smoking and Gum Disease" and "Dental Implants and Smoking."
By East Ellijay Family & Cosmetic Dentistry
November 10, 2018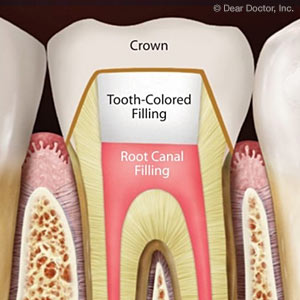 A tooth with deep decay is in real peril. If the disease isn't stopped, it can eventually infect the bone and greatly increase the risk of losing the tooth. But tooth decay removal and a root canal treatment can stop advancing decay and resulting infection in its tracks.
During this common procedure we first drill into the tooth to access the inner pulp. After removing the infected pulp tissue, we disinfect and fill the empty chamber and root canals with gutta percha. We then seal the tooth and crown it to protect against re-infection.
But while most root canals are successful and long-lasting, sometimes the tooth becomes re-infected. Here are 3 factors that could affect the long-term success of a root canal treatment.
Early treatment. Like many health problems, the sooner we detect decay and treat it, the better the outcome. A tooth in which the infection has already advanced beyond the pulp is at greater risk for re-infection than one in which the infection is localized in the pulp. Keeping up your regular dental visits as well as seeing the dentist at the first sign of abnormality—spots on the teeth or pain—can increase your chances of early diagnosis.
Tooth complications. Front teeth with their single roots and canals are much easier to access and treat than a back molar with an intricate root canal network. Root canals can also be extremely narrow making them easy to miss during treatment. In cases like this the expertise and advanced equipment of an endodontist (a specialist in root canal treatment) could help increase the odds of success in complex situations.
The aging process. Teeth do wear over time and become more brittle, making them increasingly susceptible to fracture. A previous root canal treatment on an aging tooth might also increase the fracture risk. To avoid this, it's important for the tooth to receive a crown after the procedure to protect the tooth not only from re-infection but undue stress during chewing. In some situations, we may also need to place a post with a bonded composite buildup within the tooth to give it extra support.
Even if a tooth has these or similar complications, a root canal treatment may still be advisable. The benefits for preserving a decayed tooth often far outweigh the risks of re-infection.
If you would like more information on root canal treatments, please contact us or schedule an appointment for a consultation. You can also learn more about this topic by reading the Dear Doctor magazine article "Root Canal Treatment."