Posts for: November, 2017
By East Ellijay Family & Cosmetic Dentistry
November 29, 2017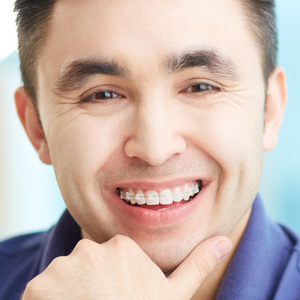 It's something you think about often—especially when you look in a mirror or at a photo of yourself. You wish something could have been done about it a long time ago. But now you think you're too old to correct your misaligned teeth—your "crooked" smile.
Actually, you can transform your smile through orthodontics, whatever your age. Millions of your peers have done just that—currently, an estimated one in five orthodontic patients is an adult.
If orthodontics isn't right for you it won't be because of age, but most likely the condition of your gums and underlying bone or your overall health. That first factor is extremely important: if you've lost a significant amount of bone due to periodontal (gum) disease, there may not be enough to support the force of moving the teeth during orthodontics.
Health conditions like severe heart-valve disease, uncontrolled diabetes or drugs to treat arthritis or osteoporosis can also make tooth movement difficult. And, if you have restricted saliva flow (dry mouth), wearing orthodontic devices could be uncomfortable and increase your risk of tooth decay.
If, however, your mouth and body are reasonably healthy (and you don't have a difficult bite problem to correct), there's no reason why you can't undergo orthodontic treatment. The only other thing that might hold you back is concern over your appearance during treatment. Many adults balk at the possible embarrassment of wearing metal braces "at their age."
If this is a concern, you may have an alternative: clear aligners. These are a series of computer-generated clear plastic trays that conform to the individual contours of your teeth. Each tray is slightly different—you wear one for a short period of time (usually two weeks) before moving on to the next tray to successively and gradually move your teeth. They're nearly invisible to others and, unlike fixed metal braces, you can take them out for a rare special occasion.
The only way you'll know whether correcting your misaligned teeth is a viable option is to undergo a full orthodontic evaluation. From there we can help you decide if and how you want to gain a straighter, more attractive smile.
If you would like more information on adult orthodontics, please contact us or schedule an appointment for a consultation. You can also learn more about this topic by reading the Dear Doctor magazine article "Orthodontics for the Older Adult."
By East Ellijay Family & Cosmetic Dentistry
November 14, 2017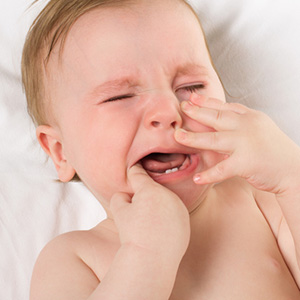 Teething is a normal part of your baby's dental development. That doesn't make it less stressful, though, for you or your baby.
This natural process occurs as your child's primary teeth sequentially erupt through the gums over a period of two or three years. The first are usually the two lower front teeth followed by the two upper front ones, beginning (give or take a couple of months) between six and nine months. By the age of three, most children have all twenty of their primary teeth.
The disruption to the gum tissues can cause a number of unpleasant side effects including gum swelling, facial rash, drooling, disrupted sleep patterns and decreased appetite. As a result a child can become irritable, bite and gnaw to relieve gum discomfort or rub their ears. Every child's experience is different as well as their degree of pain and discomfort.
As a tooth is about to erupt, you may notice symptoms increasing a few days before and after. The symptoms will then subside until the next tooth begins to erupt. In a way, teething is much like a storm—you mostly have to ride it out. However, that doesn't mean you can't lessen your child's discomfort during the teething episode.
For one thing, cold, soft items like teething rings, pacifiers or even a clean, wet washcloth your child can gnaw on will help relieve gum pressure. Chilling the item can have a pain-numbing effect—but avoid freezing temperatures, which can burn the tissues. You can also massage the gums with a clean finger to relieve pain. But don't rub alcohol on their gums and only use numbing agents (like Benzocaine) for children older than two, and only with the advice and supervision of your healthcare provider. The use of acetaminophen or ibuprofen might also be used under the advice of your doctor.
If you notice your child has diarrhea, extensive rashes or fever, contact your physician immediately—these aren't normal teething symptoms and may indicate something more serious. And be sure to consult with us if you have any other questions or concerns.
Teething can be a difficult time for your baby and family. But with these tips and a little "TLC" you can keep their discomfort to a minimum.
If you would like more information on caring for your baby's developing teeth, please contact us or schedule an appointment for a consultation. You can also learn more about this topic by reading the Dear Doctor magazine article "Teething Troubles: How to Help Your Baby be Comfortable."