Posts for: April, 2015
By East Ellijay Family & Cosmetic Dentistry
April 24, 2015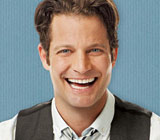 Design expert and television celebrity Nate Berkus has definite ideas about how to live. In a recent interview, he explained his ideas on design. He also talked about health, and how he keeps his teeth and mouth healthy.
From an initial design makeover that he did eight years ago on the Oprah Winfrey Show, Berkus has gone on to do 127 such makeovers. He was such a success that he now hosts his own daily talk show. He has also developed a line of home products for the Home Shopping Network and has his own design firm, Nate Berkus Associates. His clients include well-known restaurants and hotels as well as private homes. He has written articles for O Magazine and authored a book on the subject of transforming your home into a place you love.
"I realized many years ago that I wasn't going on Oprah to pick sofa colors and paint chips. I was there to lift people up through the way they live," he says. His secret to design success is to "go with what you love." He says, "Don't worry about mixing metals, eras or styles. If you love each item, you'll find a way to make it work."
His common sense practical attitude continues when it comes to dental health. Berkus is blessed with a healthy mouth and teeth. He doesn't feel anxious when visiting the dentist because he usually has a good report. He has not needed orthodontics or cosmetic dentistry. He thanks his childhood dentist for giving him fluoride treatments and sealants, and for teaching him healthy dental hygiene habits.
Berkus brushes his teeth twice or even three times a day, with a manual or electric toothbrush — depending on whether he is at home or traveling. He also follows his dentist's advice about flossing: "Floss the ones you want to keep!" He says that he tried tooth whitening once, but he felt that the whiteness was "too white." Now he simply works to maintain his natural tooth color and smile.
Contact us today to schedule an appointment to discuss your questions about maintaining healthy teeth. You can also learn more by reading the Dear Doctor magazine article "Nate Berkus, Helping Others Love the Way They Live."
By East Ellijay Family & Cosmetic Dentistry
April 09, 2015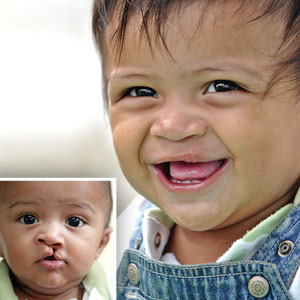 One of the most common and anguish-filled birth defects is a cleft lip or palate (roof of the mouth). Not only do clefts disrupt the normality of a child's facial appearance, they can also lead to problems with chewing, speech and the long-term health of teeth and gums.
A cleft is a tissue gap that occurs during fetal development, usually in the first trimester, in which parts of the baby's face fail to unite. Why this occurs is not fully understood, but vitamin imbalances in the mother, exposure to radiation or other toxic environments, or infections are all believed to play a role.
Facial clefts are classified as either incomplete, in which there is some but not full tissue fusion, or complete, with no fusion at all. A cleft can be unilateral, affecting only one side of the face, or bi-lateral, affecting both sides. During infancy a cleft can adversely affect a child's ability to nurse, and it sometimes disrupts breathing. As the child grows, speech patterns may be severely disrupted and their teeth and bite may not develop properly.
Fortunately, there have been dramatic advances in cleft repair over the past sixty years. It's actually a process that can span a child's entire developmental years and involve the expertise of a number of surgical and dental specialists. For a cleft lip, the initial surgical repair to realign and join the separated tissues usually occurs around three to six months of age; repair of a cleft palate (where the gap extends into the roof of the mouth) between 6 and 12 months.
Subsequent procedures may be needed in later years to refine earlier results and to accommodate the mouth's continuing growth. At some point the treatment focus shifts to cosmetic enhancement (which can include implants, crown or bridgework) and periodontal health, to ensure gum tissues that support teeth and gums aren't compromised by the effects of the cleft or its treatment.
At the end of this long process, something of a miracle may seem to occur: a young person's once disfigured mouth transforms into a beautiful smile. It's a chance for them to gain a normal life — and a new lease on physical, emotional and oral health.
If you would like more information on cleft reconstructive surgery, please contact us or schedule an appointment for a consultation.